Students reviewing standing corrections, together
Burnt out? Try the Mentorship Cure.
By Karena Thek, author of Scolio-Pilates®
Tired of seeing the same type of client over and over again? And teaching the same class over and over again? Feeling like you'll need to quit if you don't get a new challenge? It's classic burn-out. You love what you do and somehow you find yourself not caring nearly as much as you used to. Burn-out could, in many cases, be reclassified as boredom. Maybe it's time for you to challenge yourself and take it to the next level.
Maybe an intense workshop, or Mentorship, that will rock your brain cells and get you excited? An inspiring Mentor or teacher perhaps? A Mentor/teacher who is willing to be your colleague even after the workshop is over? Someone who can continue to guide and lead you down a new and exciting path? I want to help you find the right Mentor for you. But first, indulge me. I have a story for you. Then I have some tips on finding the right Mentor or challenging workshop for you.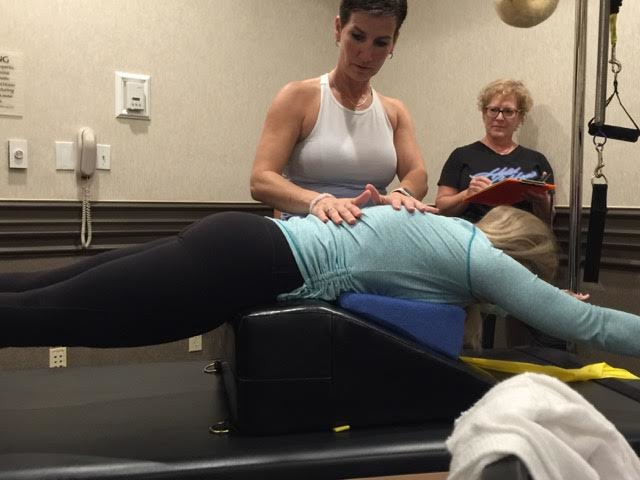 Mentorship students are experimenting, experimenting, experimenting. Using the K2 Wedge for elongation.
The Story:
There we were (me and John T. Man) driving home from yet another very rewarding Scolio-Pilates workshop.  As always, we were thinking and chatting about all the great moments and all that our students had taught us.
Then John asked me: "Do you think they understand the Scolio-Pilates work 100% now?"
I laughed. I said, "No, I don't even understand it 100%. It's a work in progress."
J:  "Well, okay then", he laughed and said, "Then do they know at least what you know now?"
I said, "No, they received a short-cut. They received in 14 hours what it took me about 2 years to figure out when it comes to working three-dimensionally with scoliosis. They now need to take that information home, play with it and figure out how to use it on all the bodies that walk through their door. Then after 6 months to a year, if they stick with it, they'll be ready for more information."
J:  "Hm… so, how do you answer the questions of those who stick with it?"
I shrugged my shoulders and said, "Email. I guess."
J:  "How do other Pilates Instructors handle more advanced workshops?"
I said, "Well the really good ones, the famous ones, have Mentorships."
J: "Why don't you have a Scolio-Pilates® Mentorship then?"
I said nothing, but I wanted to beat him on the head and ask him if he'd lost his mind. I wasn't that good, I was not famous and honestly, who wants to spend that much more time with me? My claim to fame is my basset hound for crying out loud.
A little aside for background info: For those of you who don't already know John, he is the organizer behind our workshops. I taught a workshop two years ago without John and I forgot the power cord for my projector. Do you know what one of my students said? "This wouldn't have happened if John was here." LOL!
So John went to work organizing a Scolio-Pilates Mentorship. He said all I had to do was show up and teach. I was terrified. I was terrified to send out the invitations to the first set of students. What if they laughed? What if they spread the word that this "unqualified" instructor was planning a Mentorship? I was even terrified to teach. What if they asked me a question I couldn't answer? Did I mention I was terrified? John convinced me to send out 8 invitations – all to students that had already sent me questions and who weren't entirely scary. J  I sent the invites and went for a walk with Gus T Basset Hound, secretly hoping that all the emails would get lost in cyber-space.  It turns out that three days later, 7 of the 8 had accepted the invitation and we had our first Scolio-Pilates Mentorship 6 months later. Recently, we just completed our 4th annual Scolio-Pilates Mentorship and our numbers are growing. All the graduates of the Scolio-Pilates Mentorship meet quarterly via Skype to discuss what's new and to get their questions answered. It's been a stimulating learning tool for everyone involved.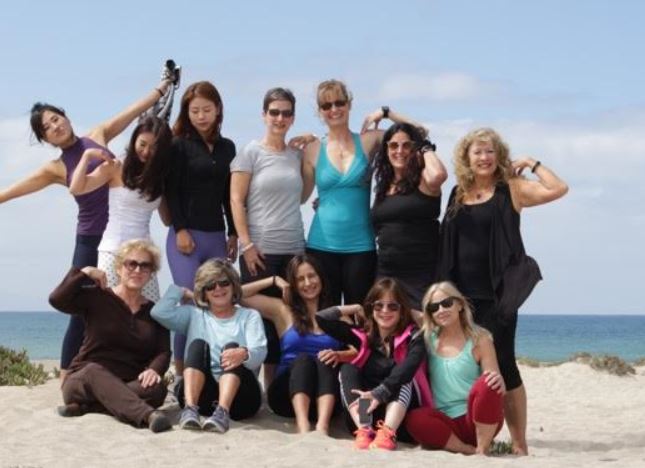 Thank you to my 2016 class of candidates to the level of Authorized ScolioPilates Practitioner. The work continues!
Tips for You:
Mentorship, whether it is Scolio-Pilates or whatever path you are passionately following, is intended to take you to the next level. Is there a type of client you love working with? Do you want to know even more about working with them? And next, is there a Mentor/teacher you click with that can help you take your work to the next level. Can that Mentor/teacher be a guide for you as you create a path for your future work? Is there a mutual respect between you and your Mentor/teacher to allow for the best learning environment and will you be able to maintain a relationship with this person as you continue to navigate down this new path where there are so many questions to be answered.
The tips in a nutshell:
Recognize whether you are ready to take it to the next level. Are you burnt out and never want to teach Pilates again or do you just desperately need a challenge? If it's the latter, see #2.
Find a passion. Is there a type of client that you love seeing? Because it's rewarding, stimulating and challenging? Define your passion.
Start your own investigation into the subject that you find stimulating. Find out how the work you know so well can help this client improve. Let the questions come up and let your curiosity be piqued.
Find a Mentor/teacher who offers a Mentorship or a workshop who is willing to work side-by-side with you to help you answer the questions you arrive with and help you discover new and exciting questions to ask next.
If you've spent a long time in your field already, it would be very sad to lose you. I hope you will find the challenge, the spark, the pizazz that you are looking for. It's going to take some work on your part. So get to it. You're a Pilates Instructor. You know how to move, now just move it forward.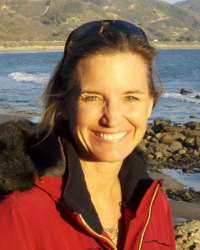 Karena Thek is a Pilates Instructor with a passion for managing pathologies in the Pilates setting as well as disseminating information for those who are ready to change. Her work has led her to author OsteoPilates, Increase Bone Density, Reduce Fracture Risk, Look and Feel Great! (2003) and Scolio-Pilates, Exercise for Scoliosis, A Pro-Active Guide (2011). In addition to her books, she has numerous webinars and free YouTube videos on the topics that she teaches. Karena is the host of a women's health talk radio show, Alive & Well Radio on AM1220 KHTS. You can listen live from anywhere on the planet at www.hometownstation.com. She previously hosted Pilates for Healthy Bodies on PBS (2009-2011). And when she's not teaching, writing or thinking about Pilates? You can find her on Facebook and Twitter posting pics of daily adventures with her partner John and their furry little child, Gus T. Basset Hound. Learn more at osteopilates.com