Sept 6, 2017
I am not just a Pilates instructor;
I am an Entrepreneur
by Holly Furgason
Walk the streets of the San Francisco Financial District for five minutes and you'll hear people drop startup terms right and left. You'll hear them talk about building their business from the ground up, getting seed money, building their team, launching their product or service. This is what entrepreneurs do. And, guess what — this is what you do as Pilates instructors and studio owners.
When I started my business over a decade ago, I thought of myself as a Pilates instructor. Now, I'm a CEO and an entrepreneur. We're entrepreneurs and it's a powerful thing to realize and claim the title.
To run a studio in the hustle of Silicon Valley is a balancing act. It's takes juggling clients and instructors, as well as marketing, HR, customer service, facility maintenance, and more. It's managing risks, choosing one direction and going with it, and constant reinvention. And it means taking on great financial risks in order to do so.
Yes, owning a Pilates studio might be referred to as a "Cottage Business", meaning it's a nice business but not something massively scalable. But this does not mean you shouldn't pursue your dream of doing something you love. And it certainly does not mean you won't be successful!
To all those naysayers I'd like to ask: How many businesses can say they've survived and thrived for more than ten years (including the financial crisis of 2008-9) in a major market that's highly competitive and expensive? I can, because Pilates is something people need and it's what I love.
Women as Entrepreneurs Is a Relatively New Thing
Not that long ago, women weren't encouraged to become entrepreneurs. But today, more than ever, women feel that their dreams of business ownership are a possibility. And they're not just dreaming. They're going out and making it happen. It's incredible that women now make up approximately one-third of all entrepreneurs worldwide.
Women are not only becoming business owners, but they are also job creators. Since I opened the doors to my Pilates studio in San Francisco, I've employed almost 80 people. It begin with one part-time employee, until today I employee approximately 14 employees. Nationally, an estimated 340,000 jobs were created by businesses owned by women between 2007 and 2015.
Two Key Factors Driving Women Entrepreneurs: Job Satisfaction and Passion
Studies have shown that successful women entrepreneurs start their businesses as a second or even third profession. They just weren't happy in their initial chosen profession. So, they start businesses seeking the satisfaction they craved elsewhere.
Passion for the business may well be the "it" factor responsible for starting many new studios. Research shows that women entrepreneurs in the U.S. rank their own happiness at nearly three times higher than that of women who are not business owners.
The recent study published by the Pilates Method Alliance and PilatesAnytime, Pilates in America 2016, reported that many Studio Owners decided to open a Pilates studio mainly because of their passion.
I asked studio owner Carrie Pages about the job satisfaction that comes from being her own boss. She said, "I couldn't imagine my life any other way. I thought owning a studio would be a piece of cake and learned very quickly, it's very hard! But now 15 years later, I'm having the time of my life!"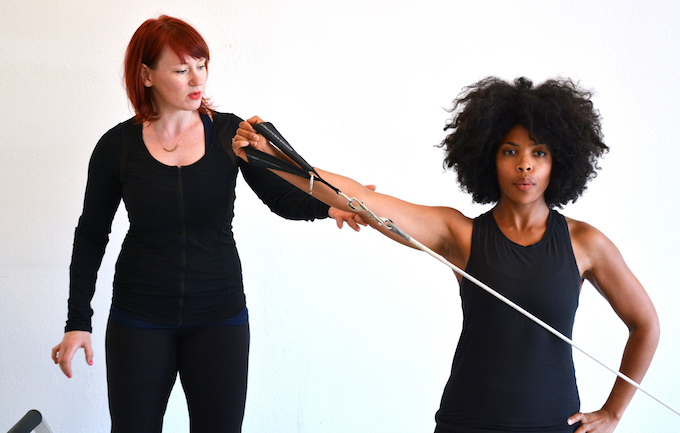 Only Those Who Take Risks Get The Rewards
Taking risks is part of being a business owner and women seem to be well-suited for it. Research shows that women are two times more likely to take above-average risks than their male counterparts.
When I got started, I understood some of the risk I was taking, but certainly not all of it. I felt like it was something I had to make happen and was not afraid to potentially fail.
"I often say that I was too young to realize there was a risk! I thought I could do anything at 23 years old when I opened my studio," Carrie Pages shared.
Many successful female entrepreneurs say they took the risk of starting their own business because they felt a strong internal drive to share their knowledge with others. Research shows that many women business owners are less focused on how much monetary benefit they will produce and more on how their business will help get their ideas out into the world.
Reaching Out and Building the Network
Studies show that one asset of being a woman in business is the tendency to assemble into groups that enable pooling of ideas and resources. As Pilates teachers and business owners, we're no different. We rally to support one another, share ideas, and thrive together through Pilates networks.
Sure, there's always going to be some competition among nearby studios and differing Pilates methods. Competition is the nature of business. But I've found that in my work, the fellow instructors, students, and studio owners who reach out to share resources have always been the greatest influence on my day-to-day business practices.
Similarly, when I asked Carrie about her network she said, "In the Pilates community, I've made many friends whom I call for advice on handling a difficult situation or just to review an exercise." With the growth of social media, it's easier now than ever to be part of the Pilates community. "Everyday, I'm so grateful for the community of Pilates instructors out there," said Carrie.
. . .
It's time to claim your business power by thinking of yourself as an entrepreneur, a CEO. Next time someone asks you what you do, state your entrepreneur status with pride.
If I'm super honest, saying "I'm an entrepreneur" wasn't easy for me at first. But, I promise it begins to positively reinforce the legitimacy of your work and of your business.
The work you do is important. You create jobs: for yourself and for others. You take on risk because the reward is following your passion for Pilates and helping people through the Pilates method.
So get out there and inspire the world through your work!
Holly Furgason is the founder and CEO of Blue Sparrow Pilates, which is the STOTT PILATES® Teacher Training center for San Francisco, CA. Holly has been teaching Pilates for more than 17 years, is fully certified and a Lead Instructor Trainer for STOTT PILATES. A University of Michigan dance grad, she went on to earn her MFA from Mills College in Oakland, CA.
Holly is a dedicated Pilates writer and teaching coach. She has been published by Pilates Style Magazine and blog, and co-authored chapters in The Survival Guide for Pilates Teachers (2004) and The Pilates Space (2005).
As a lifelong athlete and former dancer, Holly trains a diverse clientele, from general conditioning to performance training for dancers and professional athletes, and has extensive experience helping clients to rehabilitate injuries .