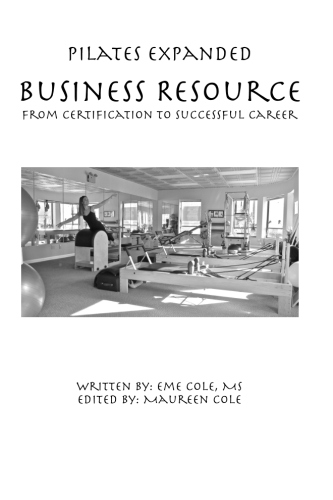 Now here is a lady that is not new to Pilates Intel, in fact she was one of the first persons that allowed me to have an article about her way back when we started up.  And that person is Eme Cole, author and owner of Pilates Plus studio in Chicago.  Eme has been working in the fitness industry for 18 years, with the last 12 years focused primarily on Pilates training. She previously  self-published 4 Pilates-themed books on Amazon in the past year under the title 'Pilates Expanded'.
With these kinds of exploits under her belt, you can certainly bet that Eme is a savvy business woman with an attention to detail that for most of us others might be mind-numbing.  Yet it is just those kinds of details that are important in making a business successful and to continue its development.  But fret not, for Eme has added to her list of achievements with the recent publication of her 5th book, "Pilates Expanded Business Resource, from Certification to Successful Career."
Eme remarks, "In general, I feel that most certifying bodies don't place a lot of emphasis on providing resources that prepare students for the "real world" and I'm hoping that this book addresses many of those unanswered questions".
Eme, a former gymnast, aptly takes the full range of her experience and applied them to business.  You can see that right in the beginning when we get a small lesson in gymnastic terminology:
"'Balance check' is a term used in gymnastics to describe either anticipating or implementing a correction. In life, I continually rely on "balance checks" to both discern when something is slightly off, or to envision potential road blocks ahead. This book is designed as a "balance check" resource to assist you as you navigate through the Pilates industry and prepare for the challenges that lie ahead."
And with that mind numbing attention to detail that I mentioned earlier, Eme then takes the reader through the process of starting a career in the Pilates field, from starting with education, certification, and moving into teaching.  We who have already gone this distance will recognize some of the challenges that she presents.  On employement as a Pilates instructor Eme writes "I'm afraid I need to deliver some tough news here. The Pilates industry has become saturated with qualified and enthusiastic instructors……I can't emphasize enough that you should enter into this commitment with a plan."  And she then goes on to give practical methods for the unexperienced instructor to work his/her way forward into a growing career.  And for we who have been around awhile, Eme takes up the subject of work/life balance with some insight that is sure to be of help.
For you who will take or have taken on the large endeavor of opening a studio, this resource will be of great value.  Eme breaks down the components of opening a Pilates studio into segments which include creating a business plan; choosing a location; negotiating a commercial lease; registering the business; financing the business; equipping the business; determining offerings, pricing and forms; advertising, marketing & networking; and growing the business. She also advises as to developing a specialty and building your brand. It is here that she informs as to the process of self-publishing your own work to contribute to the greater Pilates industry.
At the book's end,  Eme reveals a more philosophical side of herself wherein she talks about honoring the roots of the Pilates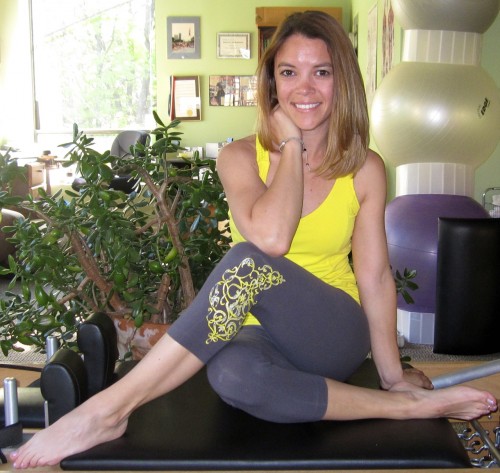 technique and moves on to what her vision of the future of Pilates holds.
I am pleased to get a chance to present Eme's work here in Pilates Intel.  I myself am inspired by her dedication, innovation and success….all powered by a work ethic that could pull an elephant.  Her gift for executing a vision into reality is to be admired.  But now we get to do more than just admire, for now that Eme has published , "Pilates Expanded Business Resource", we can also apply her ability in complementing our own individual talent and flair.
Thanks Eme for the assistance, by sharing your wisdom and vision, you will be helping many individuals.  And in so doing, you are doing something great for Pilates.
Learn more about Eme at www.PilatesExpanded.com.
Interested in the book? Here is the Amazon link: