You Don't Have to Reinvent the Wheel … If You Know How to Use It
by Aubrey Johnson
Aug 30 2017
If someone told you they reinvented the wheel because it didn't do a good enough job, how would you respond?  My response would be "I'm curious…how did the wheel fail you?"  They might say something like "The wheel would only spin some of the time, so I added some widgets to make it better." My response would be "Did you ever consider that you might have misunderstood how the wheel was designed and intended to be used?  Maybe you didn't learn everything you possibly could about the wheel before you started changing it."
This is the scenario that goes through my head when I read/hear experiences about how "Pilates couldn't INSERT UNATTAINED GOAL HERE for me, so I made this up instead."  Thanks to those who share experiences like that because it illustrates the dire need for clarification on what we mean when we say Pilates.
I recently attended a workshop on Pilates for Scoliosis and also read an article on Pilates Intel that shed light on how Pilates is perceived by many teachers/clients that are living with chronic issues.  People truly believe that Pilates, in its original essence, can't help them do the things they want to do.  This is unfortunate as this isn't the real truth; it's simply a misunderstanding.  As a Pilates teacher, mentor, and teacher trainer, it tells me there aren't enough of us out there being great at what we do and educating the masses on what Pilates actually provides – the ability to change people's bodies and minds for the better without having to change the equipment and/or invent new exercises.
What's wrong with making up exercises if it helps someone accomplish something, you ask?
For the time being this article is only available to subscribers.
Click Here To For Immediate Delivery of Full Article
****If you are subscribed, and would like a copy of this article, please mail to admin@pilatesintel.com specifyng the articles that you would like and they will be sent to you.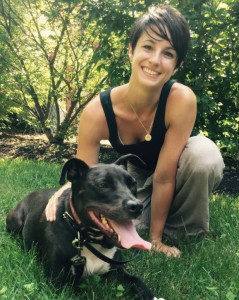 Movement has always played a major role in Moxie Mind & Body Owner, Aubrey Johnson's life. It was through the dance community Aubrey discovered Pilates and all it has to offer. "Pilates gave me a whole new outlook on how I should be using and moving my body, not just in the dance studio, but in my everyday life.  If I wanted to age gracefully I knew I had to start making some positive changes in the unnatural movement patterns I adopted being in the dance world for so long." As her passion for the Pilates method grew, she knew it was her mission to share the method that Joe Pilates created years ago and pass it on to anyone and everyone who wants to learn.
Aubrey received her BA in dance from Point Park University in Pittsburgh, PA. She is a PMA certified teacher and received her comprehensive training through Power Pilates in NYC. Aubrey is also a teacher trainer for Power Pilates and annually holds trainings and workshops at her studio. She regularly attends continuing education workshops and seminars to further her knowledge and education. In 2013, Aubrey auditioned and was accepted as one of only twelve people from around the world for a program at Vintage Pilates in LA entitled "The Work." Through this program she had the privilege of studying with world-renowned teacher and Pilates elder, Jay Grimes (who studied directly with Joe and Clara Pilates.)  Upon completion of "The Work", Aubrey was selected to continue her mentorship with Jay at Vintage Pilates for the next iteration of the program, entitled "Teaching the Work".  Concurrently Aubrey also continually mentors under and assists world-renowned teacher, Kathi Ross-Nash, through her program "The Red Thread".
"I believe with improved self awareness comes the ability to understand our self from the inside out.  When we truly know our self, we can then learn to accept our self and when we accept our self we can learn to love our self and others.  Only then can we find true happiness and contentment in life.  I love to work with open-minded people who are curious about finding ways to become a better version of themselves.  I want to help you be free to move without any limitations.  I want you to be confident in your movement and aware of how to care for your body so that you can participate in activities/hobbies that you love to do with more zest and pleasure.  As your teacher, my goal is to guide you to find ways to live a content, fulfilled and happy life."