Welcome to the digitally social Pilates instructor:
Facebook- I "Like" teaser on the reformer
Twitter- I'm practicing #teaser on the reformer
LinkedIn- My skills include: performing teaser on the reformer
YouTube- Watch me perform teaser on the reformer
Vine- Watch me perform teaser on the reformer in 6 seconds
Instagram- Here's a vintage photo of me performing teaser on the reformer
Pinterest- Here are various reformer machines that can be used to perform teaser
Foursquare- This is the studio where I perform teaser on the reformer
Google+- Here's my blog about how hard teaser is on the reformer
Like many of you who receive this newsletter, my training and education are within the fitness industry, not the business world. I don't recall taking any marketing classes in college or grad school while earning degrees in Exercise Physiology and Kinesiology. Even if I did, the information would not be relevant today. It was with the help of some business-minded friends, as well as my own trial and error, that I have come up with the following strategies for marketing Pilates offerings through social media.
To get started with any new social media site, look at the profiles of other professionals whom you respect. Where are they most active? What types of content do they typically feature? With whom do they connect with? Apply their positive strategies to your approach. Be sure to manage separate personal and business accounts. Some things that you post personally may not be appropriate for your professional audience and vice-a-versa.
I recommend focusing on one social media platform that seems user-friendly and meets the most criteria for your desired marketing outcome. I think it is most effective to direct your energy towards the development and growth of one network rather than spread yourself thin through various sites. That being said, creating a basic profile within various outlets can greatly benefit your online presence. It allows others to connect with you through their preferred platform, it makes it easier to find you through a general online search engine, and it can enhance your overall search engine optimization.
I have found Facebook to be the most user-friendly and beneficial to my Pilates-related social media goals. I have both an individual page for connecting with other Pilates and fitness professionals, as well as a fan page for my 'Pilates Expanded' book series. There are many ways to build a community through Facebook. As a Pilates instructor with clients and enthusiasts as your "friends," you can post health and fitness articles that you or other professionals have written, photos or videos of exercises that they can do at home or on vacation, personal Pilates accomplishments, Q & A's and quizzes. As a studio owner, you can post photos of the facility or a video tour, business offerings, staff features, contests, coupons, daily deals and voting galleries for class times. If you have products to sell such as books, DVD's, clothing or small equipment, you can post photos, video demonstrations, special offers, sale pricing and giveaways.
It is important to create a culture and attract ambassadors to your brand. Once people find value in your posts, they are likely to share them with their "friends," therefore expanding your outreach. Keep posts upbeat and positive. Don't express anything online that you wouldn't be comfortable saying in person. Plan to include a photo, video, or informational link with every post. These draw the most attention. Be clear and consistent with the intended message of your brand. If you share irrelevant information and the message becomes confusing, it could hurt your credibility. Keep the conversations active and ongoing. If someone leaves a comment below your post, respond in a timely manner. If you're worried you may miss a response to your post, set up your push notifications to alert you via email that the conversation has continued.
Although it can be very time consuming, try to be a team player. Follow and comment on the posts of your peers. Strive to build relationships before you need them so that when you do reach out to someone, it is more authentic. One way to build relationships is though online forums within social media sites. These groups provide a wonderful platform to share experiences and expertise with other Pilates professionals. On Facebook, I would suggest requesting memberships with the 'Pilates Contrology Forum' and 'Pilates Instructors United.' On LinkedIn, you might join 'Pilates for Physical Therapy and Rehabilitation,' 'Pilates for Sports Conditioning and Athletic Performance,' 'Pilates Pro' and 'Pilates Updates.' Sometimes the conversations become passionate as the Pilates community does not always see eye-to-eye, so be conscious as to where you would like to participate and where you would benefit most by observing.
Plan for and schedule future posts. Advance campaigns should be strategized for promotions such as holiday deals and any local/worldwide Pilates events. Submitting posts approximately twice weekly is a good goal. If you bombard people with information, you risk overexposing yourself and being hidden from news feeds. Evaluate when your posts receive the most "likes" to determine the prime viewing times. Finally, learn from each reaction and maintain favorable interactions. If someone responds negatively to your post, decide whether it is best to remove the comment or to remove the post altogether.
If you would like to focus more time offline than online, sites such as Hootsuite.com allow you to efficiently organize multiple social media platforms and information sharing. Through this you can have the same post released to Facebook, LinkedIn and Twitter simultaneously. You can also schedule post dates in advance so that while busy or on vacation you can maintain a social media presence.
Once you have successfully set up your career offerings on various social media sites, you will need to find ways to let people know where to find you online. In addition to adding your primary outlets to your business cards and facility windows, you can also set up a website to consolidate everything. About.me allows you to design a simple yet effective web page for free. The single screen displays one large photo, your name, a brief bio, and all of your page links. In my case, this includes links to my website, Facebook pages, LinkedIn account, Twitter feed, YouTube channel, Google+ blog, and my Amazon sales page. I find this particularly useful when I send professional emails. I have assigned my About.me link as the "signature" on all email correspondences. This way recipients can review my information through various platforms without an elaborate Google search.
Whether you are spreading the word about group classes, daily deals, recent accomplishments, upcoming workshops, a job opening, or product sales, there is a social media platform that can get you optimal exposure. While it can be intimidating at first, take it one day and one platform at a time, while focusing on long-term goals. In a fitness niche such as Pilates, it can be very rewarding to share ideas and network with other likeminded enthusiasts and practitioners, and social media sites provide the perfect portal.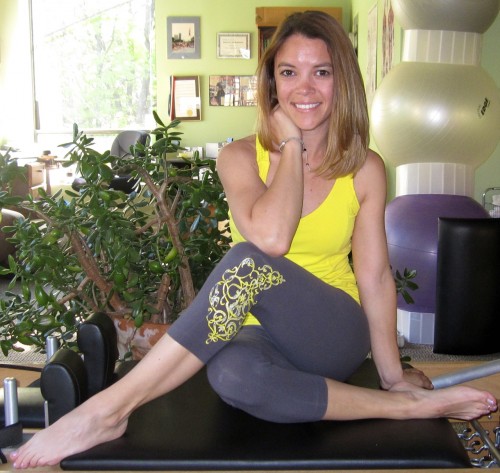 Eme Cole was certified in Pilates through the PhysicalMind Institute and earned degrees in Exercise Physiology and Kinesiology. She opened Pilates Plus CrossTraining Studio in Chicago in 2002 and authored a series of books titled 'Pilates Expanded,' which are available on Amazon.com.
You can choose how to contact her at About.Me/Emecole
Words by Eme Cole