I started taking Pilates in the late 1990's after seeing Madonna on the cover of Shape magazine – below her picture was the word 'Pilates'.  Being heavily influenced by pop culture – I needed to find out what this form of exercise was.  I register for a mat class that week. This was my first experience with the biggest piece of Pilates Humble Pie I have ever eaten! I struggled with every single exercise.  This did not deter me – but rather, it motivated me to learn more about this enigma called Pilates.   I was hooked.
I started to take a mixed apparatus class at a home studio in our neighborhood shortly after that and although I became hooked on the mat work, the apparatus blew my mind.  I would work out week after week on these challenging yet fun movements that left my body feeling (and looking) better than it ever had – even better than after taking those bootcamp-type fitness classes and training to run my first marathon.  At that point all I knew about Balanced Body was that they manufactured, the most amazing, smooth riding, high quality Pilates equipment out there.
Over the next 3 years I completed a comprehensive certifications with Pilates Core Integration out of Phoenix, AZ. After completing that program I started to teach Pilates out of my basement and had the opportunity to take the Physical Mind certification as well.  I loved learning about Pilates and the various ways to teach the inherently great exercises was inspiring to me.  The more perspectives on the work of Joseph Pilates, in my mind the better.
After completing my training, I decided I would treat myself to some continuing education.  But what to choose???  I decided to attend Balanced Body's Pilates on Tour in San Francisco in August of 2008 – I thought if this company makes such high quality equipment, they must be great at continuing education and I had never been to San Francisco!!  Little did I know how that trip would drastically alter my life!
My key observations to Balanced Body's approach to continuing education were:
(1) the intimate size of the conference provided for a rich learning experience;
(2) the session presenters were leaders in the Pilates industry and they came from a mix of Teacher Training Programs and Pilates lineages.  Experts like Brent Anderson from Polestar and Kyria Sabin from Fletcher Pilates are examples of highly regarded leaders in the Pilates industry that we were able to learn from;
(3) the information that was shared was presented in a way that even a newbie instructor like me felt more engaged and empowered than I ever had – my confidence was at an all time high!;
(4) the conference delegates (like the presenters of the sessions) were from various Teacher Training programs.  This was very interesting to me and I wondered how Balanced Body attracted graduates from so many other programs to their continuing education programs.
Going into the POT, I had not intended to consider taking another certification, but by the end of the weekend I was wondering how I could get more involved with this organization.  Again, I was hooked!
The following Spring, I attended the POT Rehab Summit.  The Rehab Summit is unique to the Pilates on Tour circuit of conferences as it is the only one that focuses on rooting each session and pre-conference workshop in bringing the worlds of Pilates and research together.  I loved it.  What I noticed was that the two conferences I had attended had similar approaches – smaller numbers of people in each session, high quality content, social gatherings to create that sense of community and the key message throughout the weekend was that we are a part of the best profession in the world.  In a way, Balanced Body and their approach to continuing education is to heal the healers, re-energize us, inspire us whether we are a one-person show teaching classes out of our homes or part of a huge studio.
I needed more, I needed to learn about their certifications – so I was told to find Al.  Al Harrison is the Director of Business Development/Education for Balanced Body.  We had a great discussion and he encouraged me to set a goal to apply for their CoreAlign Master Instructor program and their Faculty Education Program.  This discussion motivated me to work hard, learn and gain the experience that I needed to be accepted into these programs.
Since that Rehab Summit in April of 2009, I have become a CoreAlign Master Instructor, moved my studio our of our basement into a commercial space (resulting in a total career change for me), was accepted into the Balanced Body Faculty Training program so that I could share my love of Pilates with others, and we just opened a facility that includes a clinic offering Massage Therapy, Physiotherapy and Chiropractic services, that is 9,000 square feet and includes all of the classical Pilates apparatus and the new innovations that Balanced Body has facilitated in bringing to the world – the CoreAlign, the Orbit, the MOTR and Bodhi.
I love the way these tools allow me as the instructor to help our clients find a deeper connection with the classical work, resulting in more control in the execution of the exercises.  Some would argue that the more 'toys' we bring into the mix within the Pilates environment, the further away from Joe's intended simplicity we are moving.  On the surface that might look to be the case, but if you look a little deeper you will see just how firmly rooted in good movement principles these Balanced Body tools are.
Concepts like breath, core activation, spinal stability and mobility are repeated over and over in each manual.  So, if you are considering becoming a certified Pilates, CoreAlign, Bodhi, etc instructor, the approach you can expect from Balanced Body will be consistent.  You will cover the same movement principles, the same breathing concepts, the same anatomy components in each training module.  This consistency will provide you with a solid foundation in that you will layer and layer your understanding and each time you review these concepts you will see them thought different eyes.  The result of this approach is confidence – plain and simple.
I often wonder, as I have worked my way along my Pilates journey, if the crew at Balanced Body knows just how much confidence that people, like me, have because of the equipment they manufacture, the sales team that supports those of us who sometimes feel like a small fish in a big ocean and because of the Education team who create and deliver the various training modules make us excited for our future in this industry.
So, if you have often wondered about becoming a certified Pilates Instructor, attending a Pilates on Tour, taking a training weekend to add a new skill set like MOTR or CoreAlign – despite your original training, you will never regret your decision to get involved with Balanced Body – in fact, it may even be a game changer!!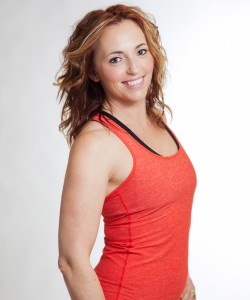 Jana Danielson
is the owner of Lead Pilates, Cycle & Fitness and Lead Integrated Health Therapies in Saskatoon, SK Canada, Jana has worked to create unique business devoted to providing clients with the latest trends in health and fitness and therapies including Chiropractic, Physiotherapy and Massage Therapy. Jana is dedicated to an all around healthy lifestyle and shares this passion with her team and clients. Jana went from teaching Pilates out her basement studio to opening a studio in 2010 to just this past summer, expanding her Pilates studio to launch a unique organization that integrates multiple movement therapies under one roof.
Jana completed her Bachelor of Commerce and Masters in Business Administration Degrees at the University of Saskatchewan. Jana worked as a Business Consultant before making a career change into the wonderful world of Pilates. She was certified thorough the Pilates Core Integration Program in 2008 and since then has completed certifications through Physical Mind, is PMA Certified and in 2013 joined Balanced Body as a Faculty Member. She is also a CoreAlign Master Instructor.