June 7 2017
Isle of Man – by Jonathon Grubb
I am very fortunate to live on a wonderful, scenic and peaceful island called the Isle of Man.  However, when Joseph Pilates spent 3½ years on the island from late 1915 to early 1919, he was strictly confined within the largest internment camp built for First World War "enemy aliens" and would not have enjoyed quite the same benefits of island life as I do today.
Knockaloe Internment Camp, where Joseph was held (along with my own great-grandfather) has been "well described by a visitor as being like a glorified chicken run.  Not only were the huts suggestive of enlarged hen-houses, but the aimless wandering of the men round and round the compounds, in dust or in mud, according to the weather, brought to mind the scratchings of cooped chickens in their already well-scratched-over soil." ("St Stephen's House, Friends' Emergency Work in England 1914 to 1920" by Anna Braithwaite Thomas and others)
Approximately 23,000 men were held at the camp within an area covering only 22 acres (this is less than 17 football/soccer fields).  At the outbreak of the war, Britain was a very different place than it is today and attitudes to German, Austrian, Italian and Turkish (described at that time as "enemy aliens") were very strong.  Joseph arrived by boat on the island in the dark of night when locals were less likely to see the new internees.  He was then transported by steam train to the camp, to awake the next morning enclosed within his new barbed wire-surrounded home.
How did Joseph deal with the challenges he faced during that time?
For the time being this article is only available to subscribers.
Click Here To For Immediate Delivery of Full Article
****If you are subscribed, and would like a copy of this article, please mail to admin@pilatesintel.com specifyng the articles that you would like and they will be sent to you.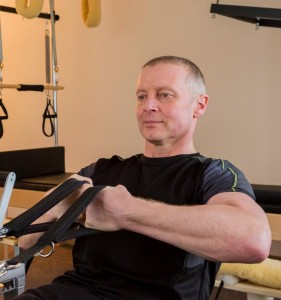 Jonathan Grubb was born in England in 1962 and has lived on the Isle of Man since he was two years old. His great grandfather Jakob Grub was interned on the Isle of Man until 28 August 1919 in the same camp as Joseph Pilates.
In his younger days Jonathan was a keen amateur sportsman and particularly excelled at football, representing the Isle of Man in international games on numerous occasions. An anterior cruciate ligament injury sustained towards the end of his playing days led him to discover Pilates and he has been a passionate practitioner ever since. He has travelled to various countries to attend conferences and courses and been fortunate to be mentored by very experienced local teachers.
Having previously been an advanced instructor for several years in the Wu family style of tai chi chuan, Jonathan is currently studying to become a Pilates teacher with MKPilates and his teaching has been enthusiastically welcomed in classes throughout the island already.
More on the story of Knockaloe Internment Camp can be found at knockaloe.im