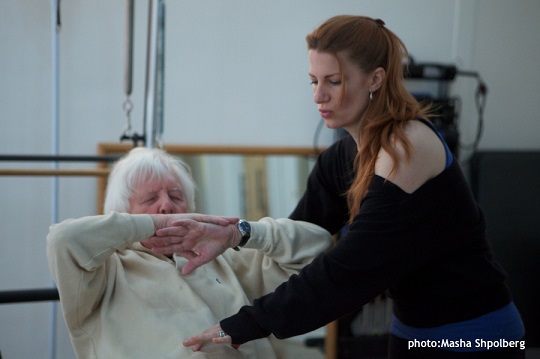 Some of you may remember that I spent some time in Paris this summer. And while there I had the opportunity to have a session at Pilates Prive, owned and operated by Erin Mohr.  I was taught by the boss herself, and not only did she kick my butt physically, but she deflated some pretty big illusions I had of my own work.  Yes, I left crying, but thankful.
Erin is an ex Vegas dancer (Caesar's Palace, not THAT Vegas ;-)) and professional Bellydancer, having performed in shows in Japan, NYC, Florida, Paris and Amsterdam.  She first came upon Pilates when she landed a job as a Physical Therapist aide for Marika Molnar, of Westside Dance Physical Therapy in New York City.  Marika is the PT for the NYC Ballet and works with the Broadway and ABT crowd.  When Erin herself became injured on the job, Marika rehabbed her using Pilates.  Marika is also the Physical Therapist for the PhysicalMind Institute and has authored several books on both subjects. After she was out of pain and could feel the results in her own body, Erin started to delve into learning more. In 2003 with the help of her new boss, she achieved her comprehensive certification with the PhysicalMind Institute.
Having a full certification under her belt, Erin started her new job as the sole Pilates practitioner at a hospital wellness center on the west coast of Florida.  This was a unique experience in that she was faced with many difficult clients including those who had Parkinson's disease, stroke, post- rehab hip replacements, cancer survivors and recent back surgery.  Being alone with her competence, she had no one to turn to for advice but the Internet and her own experience.  But she felt her way forward with what she was presented with and sought the advice of the doctors and nurses she was fortunate enough to have around her.  It was through this struggle as a new teacher she developed a sharp eye, and the ability to formulate a program for the individual.
Life continued to take its course for Erin, who from her dancer days was beset with a love for travel and seeing the world.  Before long, she ended up in Paris, where Pilates was regarded mostly as an exotic exercise form, the allure of which was increased by the fact that mostly foreigners (at that time) were instructing it.  After some years, Erin opened her lovely and intimate studio, Pilates Privé.
It was Pilates Intel contributor Mareile Paley, who worked as a guest teacher at the studio, that recommended that I take a lesson with the gifted Erin.  We started the session on the spine corrector, warming up and working to get things moving from the center.  Now you see, I pride myself on working from the center, and in fact am constantly pounding the need to do so to my private and class students alike.  Especially having studied Graham technique, I haughtily consider myself an expert in the field.
But au contraire… according to Erin.
She pointed out immediately the potential for me to use the center right from the beginning.  My poor ego was rather deflated as I would rather have been showered profusely with compliments and awe, but soldiered on to get what I really was there to do, to increase my knowledge and understanding of my body. Erin asked me to relax my dancer feet and keep my knees and elbows from hyper extending in order to more get the stretch in the spine with the obliques assisting this.
Then on to the short box, and here we came upon the next subject to hammer away at, which was to constantly and always increase the space between ribs and pelvis while doing the work.  While flexing my torso forward in the round back, her hands are all in the front of me, encouraging me to lengthen, lengthen, lengthen–no collapsing. Oh yeah, and to flatten my abdomen.
Hello, Erin, I am doing my best with the stomach flattening, can you be a little nice?
No, she replies.
The pounding continues in flat back, as I lean back, the same corrections come my way.  Lengthen more! Given that Erin came to Pilates with a back injury, and that she is an accomplished belly dancer where abdominal isolation and length are stressed, Erin's eye is drawn to this aspect of the work.  And that is good for me, I am always eager to maximize length and stretch.
We sit for a salad after the workout for this exclusive Pilates Intel interview.
Your work is too pretty, Brett, like my Paris Opera boys!  No need to point your feet so much and wave your pretty arms.  You need to work more from the center, in much of your work you collapse in the middle (there you go again, rubbing it in are you?).  As for your back, you have too much lordosis in the low back and not enough curve in the cervical area to match.  And further, you rely too much on your hyperextension rather than using the strength from your core.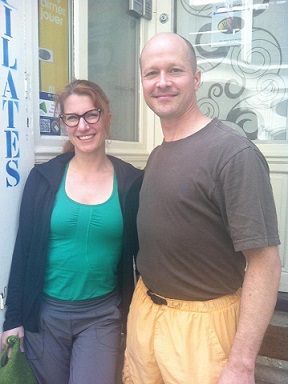 With my mouth full of quinoa, tears rolling down my face, and a crushed soul within, Erin is quick to end the tirade on a positive note.  "Your teasers are gorgeous, I really had to dig deep into myself to find something for you to work on, but you mastered it."
Thanks Erin, from now on I am sticking to teasers.  And the feet are staying pointed, sorry about that.
Just prior to saying good bye, we realize a picture for the article is in order.  We check each other's teeth for spinach remnants, yep good to go.  Snap.  Oops, take it again, stomachs a little out.  Snap.  Okay, in a perfect world things might look differently, but that'll do it…we hug and say good bye.
Wrapping up, it was a great session with Erin.  Her love, dedication and very hard work show both in the studio atmosphere and her demeanor during class.  If by chance you find yourself in Paris, I can very much recommend a stop at Pilates Privé, you will be sure to take away a new bit of knowledge.
Learn more about Erin and Pilates Prive here.
Words by Brett Miller