Jan 24, 2018
Training a Dancer in Pilates
by 'Swami' Doug Bentz
After 49 years in professional dance (and 40 years teaching dancers in the Conservatory of Performing Arts at Point Park University), I can honestly say my entire working life has been spent either dancing or working with dancers. So, when a dancer comes in for their first session to work with me, I feel confident introducing them to the joys of Pilates.
The first thing you will notice in a dancer is extreme flexibility and range of motion. The work required of dancers today is often so aggressive, fast and relentlessly over-stretched that it has become a recipe for injury.
In recent years, I have noticed an increase in hip labrum tears, torn ACLs, rotator-cuff strains, chronic lumbar pain, stress fractures and loss of the natural cervical curve. A concern is that the preparation and training of today's professional dancers may not be providing the stability to safely support such extravagant movement without additional help. And this is where we Pilates teachers come in!
Important: Dancers are used to learning long and very complex phrases of movement QUICKLY. That is quite different than with any other athlete. Dancers will need to see and feel results quickly and do not have a lot of spare time. Therefore, you as a teacher must get your "A Game" on. If dancers get bored, they're gone.
Now with that in mind … what to do to benefit our friendly dancer?
First and foremost: Reintroduce the dancer to their central axis, their natural spinal curves and the state of being "neutral". This has, in many cases, been "trained out" of the dancer. It may seem simplistic, but finding neutral helps the dancer recover a sense of center … an inner control even during extremely aggressive and fast movements.
There are some good Pre-Pilates Fundamentals that can help with this. Like standing with your index finger at the crown of their skull and having them imagine the plumb line downward from the dens (the odontoid process of the C2 vertebra) through the center of their pelvic floor. Then have them turn around this axis and take it through space. Once the sensation of neutral spine and central axis is established, then you can proceed into working on balance and stabilization.
Second: Many dancers today have problems balancing, especially on one leg. They are moving so fast and furiously all the time that they rarely get to just stand still and feel in control. Then when they suddenly do have to stand still, their "technique" seems to fall apart and they get frustrated. I really like the Cadillac Standing Arm Spring Series for balance and torso stability. Especially Punching while lunging forward as you punch and then returning on one leg and "in one piece".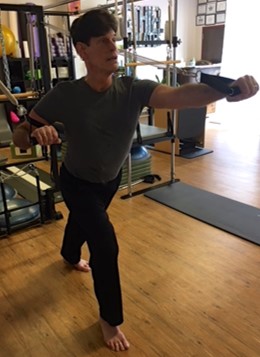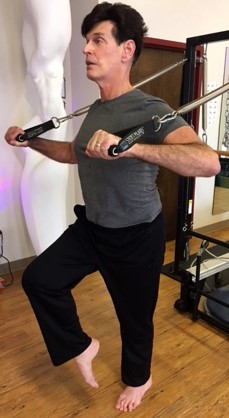 Another great one for dancers is the old standby –  Standing Squats on the Reformer.
For the time being this article is only available to subscribers.
Click Here To For Immediate Delivery of Full Article
****If you are subscribed, and would like a copy of this article, please mail to admin@pilatesintel.com specifyng the articles that you would like and they will be sent to you.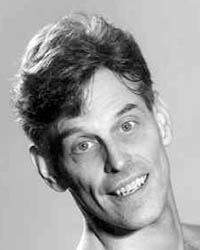 Doug Bentz lives in Pittsburgh, PA, has a BA in Dance from Butler University in Indianapolis, was a Dance Professor in the Conservatory of Performing Arts at Point Park University for 40 years, and has enjoyed a 49 year professional dance career with companies such as the Ballet du Grand Theatre in Geneva, Switzerland, the New Jersey Ballet, the Luigi Jazz Dance Company in NYC, the Pittsburgh Ballet Theatre, the American Dance Ensemble, the Pittsburgh Dance Alloy, and his own Pittsburgh-based company The Extension. Doug has also performed in over 30 musicals both on and off Broadway, in Georgia, Michigan, Florida, and with the Kenley Players of Ohio as a member of the Actors' Equity Association.
Doug was a scholarship student at the School of American Ballet in NYC and also studied yoga at the Kripalu Institute. He has practiced and taught yoga for 25 years. Doug has also choreographed over 60 original dance works including: The Jazz Nutcracker, Allegro Jazzioso, Let's Swing, The Snow Queen, Dragana, Arc of Descent, Transmigration of Souls, Folie a Deux, American Gothic and MoonDance.
Swami Doug is a PMA-CPT certified Pilates teacher and did his Comprehensive Teacher Training at Harmony Pilates in Pittsburgh, PA. He has taught Pilates as an Independent Contractor at Moxie Mind & Body Pilates, the Wexford Oxford Athletic Club and is currently teaching at the SThiel Pilates & MOVEment Center in Pittsburgh.