This past month I taught a Pilates Mat Class at Athleta in their new Albany, NY store.  It was fun to teach out of the studio and for a Sunday morning we had quite the turn out. I was very pleased to meet some new Pilates Junkies in the community and after the class finished I was able to (shop and) talk to a lovely girl from Missouri who had just moved to the area. She told me how much she loved Pilates and it was the only type of workout that made her feel strong, healthy and happy.  She also expressed how she was on a budget and it was hard for her to sometimes make it to a class once or twice a week. She expressed to me that she knew how much the equipment and springs cost, how much time and money a certified teacher spends on their education and the real value of Pilates. In addition she also expressed to me that she hated the gym, loved the small sized classes and individual attention and needed a real certified teacher due to a few spine and neck issues from a car accident.  The only thing she didn't like was the price, which sometimes went up to $45 a class.
This of course got me thinking.  How can us Pilates studio owners and teachers go outside the box and offer some more creative options without giving it away for free and still make our overhead to help more people like Ms. Missouri enjoy Pilates sessions every week? The price shouldn't be the only thing steering clients away from our Pilates classes.  Below are a few things that I have been trying at Body Be Well Pilates and they have been working really well.
Last Minute "Jump In's" – Our classes "close" on Mindbody (our online sign up system) one hour before the class start time.  This means people cannot sign up anymore online one hour before the class start time.  If the classes are not full and there is a spot or two available or late cancels we go to our small "jump-in" list. We call these select few people on the list and let them know there is a spot available and if they can make it they come for only $20 a class. Sometimes it works and sometimes it doesn't but $20 is better than $0 in my opinion.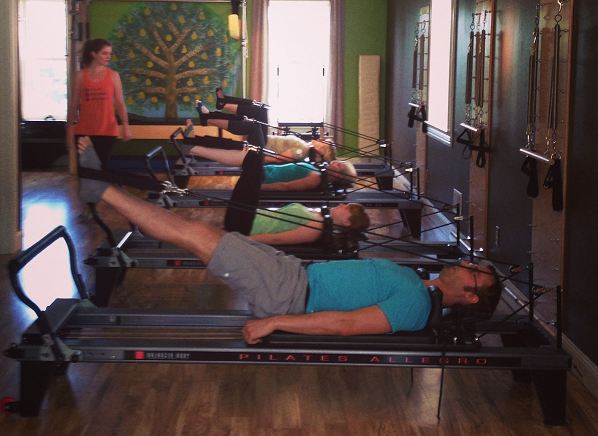 Bring a Friend – If anyone brings a friend to class they get a $10 coupon/credit added onto their account. The friend doesn't get a class for free, but is offered our group intro pack of 3 classes for $49 as well as the $10 coupon/credit offer for any friend they bring in.   The circle has been going 'round and has been cycling in new people that have been recurring clients and also sending their friends. Once they bring in 3 friends they are basically getting a class for free, however you have now gained 3 new clients and made $147 off their intro packs. We also had a woman save all her $10 referral coupons and use them to purchase a few privates for her friend for a gift.  She ended up turning into a regular private client and has been at the studio for over 4 months now!
Create a Class – This has been working really nicely at filling some off peak times at the studios.  We offer clients the option to get a small group together, decide what type of class they want and what day and time works best for everyone and then it is not open to the "public".  There needs to be a minimum of 3 people, they get the group equipment package prices and everyone in the class is someone they know and enjoy spending time with.  We also make them pay for the month up front and don't allow any rollover into the next month, so even if they do not make it you are still covered for the whole class. These classes are great for groups of friends who are trying to get into shape together; for pregnant women and new moms looking to get back into shape; for bridal parties wanting to walk down the aisle as fit as possible; for birthdays or special occasions; and for beginners who are looking for a way to ease back into exercise slowly and privately.
Payment Plan – The bigger the package, the cheaper the class, however sometimes coming up with $425 (our 20 group equipment class pack price) off the bat is too much for them.  For the clients that can budget about $200 a month we let them make two (or sometimes 3) payments as long as they are consistent with their workouts and they are aware their package expires in 3 months and there is no rollover.
As always, you need to do what is best for your studio, clients and demographic area. At the end of the day we are running a business, however I truly believe everyone needs and should be doing Pilates in some way, type and form.  Offering these few options to people like Ms. Missouri has helped us grow our clientele and classes and have allowed for more people to budget Pilates into their financial planning and healthy lifestyle routine. Let's not forget how much you can save on doctor bills and medications by simply getting in shape and staying healthy and fit over the long-term.
Chealsea's Bio
Chelsea Streifeneder is the proud owner of Body Be Well Pilates in Red Hook and Catskill NY, located in the beautiful Hudson Valley. Chelsea is a Pilates Sports Center Faculty member and hosts and teaches the Pilates Sports Center Teacher Training Program at her studios. She continues her Pilates studies and related movement therapies monthly in continuing education workshops and courses. Last yearChelsea completed Alycea Ungaro's Synthesis Mentoring Program where she was able to deepen her commitment to her Pilates teachings and business. Chelsea is a Pilates Method Alliance(r) Certified Pilates Teacher and holds a B.A. in Writing and Dance from Bard College. Chelsea became a Pilates believer by experiencing it transform her own body. Being able to move free of pain, with ease and confidence changed her life. This transformation fueled her desire to learn and share this method with others. Chelsea's approach to teaching is practical, hands on, extremely detailed, incredibly hearted, and accompanied with a bit of humor to keep it light! She inspires her clients to take what they learn in their sessions and apply it to their every day lives. In addition to teaching Pilates, Chelsea is an accomplished writer, providing articles and information for websites, newspapers, magazines and exercise enthusiasts. She has a monthly article in Healthy Lifestyles and has also been published onwww.pilatespal.com! She also writes bi-weekly for ActiveWear USA's international online magazine. She has created workshops for Pilates professionals and continues to design and teach Pilates programs! You can contact Chelsea at chelsea@bodybewellpilates.com.